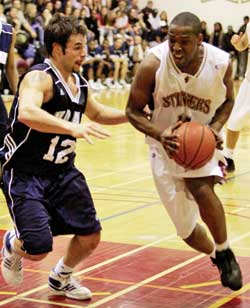 Finally, tomorrow night, basketball season will be upon us.

At least in exhibition form.

The Concordia University Stingers, from the faraway lands of Canada, will be gracing Comcast Center with their presence tomorrow night. It should be a tough matchup: The Stingers lost a heartbreaker on Monday to perennial contender Rhode Island, 106-63.

Knowing the enemy is the first step to annihilating the enemy. "Who is Concordia?" you may ask. "Who are their main players? Do they pose a threat to us? Should I scan-n-go?" Heck no! This is an exciting matchup - one that I've taken the liberty of outlining for you and breaking down in an easy-to-read, indispensable guide. No one else has it!

GUARDS

The backcourt starters are junior Pierre Thompson and senior Levi Vann. Since both of them are 5'10, Eric Hayes and Greivis Vasquez - both who check in at about 6'4 or 6'5 - will have to be careful down low and make sure the crafty upperclassmen don't dribble under/between their legs. They will also have to remember that these guys won't pass the ball: Thompson and Vann combined for one assist against Rhode Island. It's almost scary to think about facing a team that doesn't even need to dish to stay competitive! Their main backup is Decee Krah, a freshman with one inch on the guys he backs up. He had 5 points in 14 minutes. This team runs deep.


FORWARDS

Senior Dwayne Buckley leads this group. The two-time Quebec Student Sports Federation All-Star proved his leadership last year, averaging just over 16 points and 6 rebounds per game and helping take Concordia to the consolation final in the CIS national tournament last year. Against Rhode Island, he got 22 points, 4 rebounds and 6 assists. James Gist may be a Wooden Award candidate and may be 5 inches taller and may have been 4th in the ACC in blocked shots last year, but he's never faced a QSSF All-Star in his prime. The other forwards with significant time are Andre Johnny and Christon Henry, who, combined, had the same amount of turnovers as they did points last game (5), but that's bound to turn around.

CENTER

Boom Osby and Braxton Dupree will have to watch out: Jamal Gallier is in town. The 6'7 290-lb center is coming off a junior season that saw averages of nearly 5 points and 5 rebounds a game. He was an integral part of the team last year and will only continue to bang down low in his senior season, as demonstrated by his 4 and 4 game against Rhode Island. Sophomore Desmond Murphy averaged only a point per game last year, but on paper, he should have a breakout season.


COACHING

Incredibly, it seems Gary Williams is looking into a mirror. John Dore has coached Concordia since 1989 (like Gary Williams), has won the national Coach of the Year award (like Gary Williams), and has even won a national championship (like Gary Williams)... in Canada (only difference). So it's pretty much even, but Williams has the edge in hair and sweatiness.

INTANGIBLES

Maryland is playing at home and it's expected to be a blowout. This should be ample motivation for the Stingers to pull out a win.

PREDICTION:

Stingers lose a gritty battle to the finish; 95-46