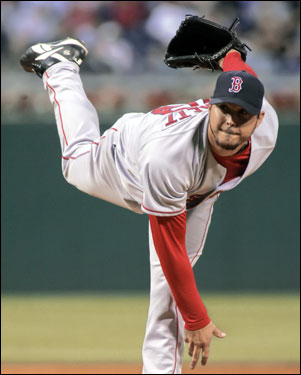 "All literary men are Red Sox fans. To be a Yankee fan in literary society is to endanger your life." - John Cheever

The Red Sox, I would argue, are clearly the most poetic and literary of all baseball teams. Many things play into this: the tragic arcs of so many pre-2004 Red Sox seasons, the multitude of colleges (and, therefore, good writers) in the Boston area, and of course, the majesty that is Fenway.

Doubt what I have to say? Check out Peter Gammons' piece on Game 6 of the 1975 World Series. The fact that he wrote that on deadline reminds me of just how far I have to go in becoming a good writer. Still disagree with me? Read John Updike's famous piece "Hub Fans Bid Kid Adieu." Of the pieces included in The Best American Sports Writing of the Century, three of them are related to the Red Sox, with only Muhammad Ali warranting more.

(Granted, I will entertain arguments for the Brooklyn Dodgers, a team that no longer exists, simply because The Boys of Summer by Roger Kahn is probably one of the top three or four sports books of all time. However, the Brooklyn Dodgers no longer truly exist.)

Why am I mentioning all of this? Because it relates to last night's win over the Cleveland Indians. Simply losing would not be dramatic, tragic, or exciting enough for the Red Sox. Face it, there is no emotion - except hopelessness, which is something the Red Sox are not guilty of - in losing four straight games. Losing tomorrow night in Game 6 would be tragic, a Game 7 loss would be cataclysmic, and a series victory would be awe-inspiring.

So, last night, Josh Beckett needed to strike out 11 men over eight innings, despite attempts by Kenny Lofton and the Indians to psyche him out. Kevin Youkilis needed to step up with a home run, a triple, and three RBIs. Even Manny Ramirez needed to provide (in retrospect) comic relief by hitting a 390-foot single. If it didn't happen, there would be no story, no drama, no life to a team that is based on those three things.

Schilling, whose last Game 6 was part of the greatest story baseball ever told, is facing Fausto Carmona tomorrow night. Although his sock will not be nearly as bloody, I predict the result will be the same as what happened 3 years ago - A Red Sox win.

On a side note, Manny's comments about not caring don't bother me. If you work at Target, certainly Target's shareholders care if the store meets their earnings projection each quarter and are certainly somewhat dependent on you to do so. But do you really care? No, it's still just a job. You might like it, you might hate it. I'm confident that Manny Ramirez likes playing baseball and would prefer to win, but he's right in pointing out that the rapture won't occur if the Red Sox lose. It may sound callous, but as fans, we care far more than any player does about the wins and losses.

Final side note: I promise, you'll only have to put up with posts about the Red Sox for about another week or so at the most.