Finally, we come to our thrilling conclusion. Thanks for hanging in there with me, guys.

PART III

NORTH CAROLINA (8-0)

KEY STATS: Roy Williams has the Heels running the top scoring offense in the ACC and No. 3 in the country. They play fast ball. They also grab 10 more boards per game than their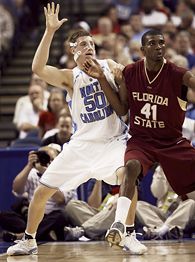 opponents.
GO-TO GUY: Tyler Hansbrough is always a candidate for College Player of the Year because he's great at two things: finishing close to the basket and rebounding. A lot of people think he's overrated and I agree that his game might not translate to the pros, but he's No. 1 in scoring and No. 2 in rebounding in the conference; that's not too bad.
BIGGEST GAME SO FAR: A 86-77 win over Kentucky at Lexington. The team swarmed Hansbrough, but he made a bunch of foul shots. Junior Danny Green also had 20 points.
AGAINST MARYLAND: They'll beat us. Our defense is just not good enough this year. I don't think we can contain Hansbrough and simultaneously stop Lawson's quick cutting ability and Ellington's threes.

VIRGINIA (7-2)

KEY STATS: V
irginia last year was known for their spectacular guard play. So it may be surprising to some people to see that Virginia is No. 1 in rebounding margin ... in the country. Impressive considering that only one guy averages over 6.5 rpg.
GO-TO GUY: It has to be Sean Singletary: He's good for over 19 ppg, 7.2 apg (tops in the ACC) and grabs at least 4 boards per night. The senior is the heart of this team.
BIGGEST GAME SO FAR: A close win over the Wildcats in Arizona, 75-72. Singletary stepped up his game, scoring 24 points and hitting free throws and clutch shots down the stretch.
AGAINST MARYLAND: The rebounding margin and outstanding play of Singletary probably will overwhelm the young team. The Terps have been unable to stop good guards so far this season, and their perimeter defense is as poor as I've seen it.

VIRGINIA TECH (5-3)

KEY STATS: This is a hard team to read statistically. They pass well and have the No. 2 ATR in the conference. They also play decent defense, but have the second-lowest scoring offense in the ACC.

GO-TO GUY: A.D. Vassallo is leading the team with 15.3 ppg and shooting a pretty hot 43.8% from beyond the arc. But a freshman is looming: Jeff Allen is averaging 13 and 8 per game, and he's 5th in FG% in the ACC.
BIGGEST GAME SO FAR: An 82-64 massacre at the hands of Gonzaga. The Hokies had four double-digit scorers, but the Bulldogs sealed it with a 14-6 run at the start of the second half.
AGAINST MARYLAND: It's difficult to say for sure. I think that Maryland definitely could win and that they have the talent. However, VTech is the first ACC game after the winter break and the Terps are going to Blacksburg. Think the fans are still upset about Augustus Gilchrist? But the home game is definitely winnable.


WAKE FOREST (5-3)

KEY STATS: Wake Forest can't make shots: They're the pits in FG% and 3FG%. They're also last in assists, but surprisingly No. 1 in turnover ratio. Maybe they just aren't passing at all.
GO-TO GUY: James Johnson is 5 rebounds off of averaging a double-double for the season. Talk about the year of the impact freshman.
BIGGEST GAME SO FAR: A 83-80 loss to Vanderbilt. Shan Foster and A.J. Ogilvy took on the Deacon defense and lit them up for a combined 49 points.
AGAINST MARYLAND: As of right now, I'm pretty sure Maryland would win this matchup. Last year, the game was close on the road, but the Demon Deacons really are missing Kyle Visser this year. They can't score, straight-up. That means they can't win.

*Extra Note: Don't forget that Wake Forest suffered the loss of a much-beloved coach before the season. I think that hurt badly before anyone even got on court. I'd give them a "gimme" year in terms of judging their program. They're also bringing in some great recruits, so they definitely have a bright future..

Projected finishes:


1) North Carolina
2) Clemson
3) Duke
4) Virginia
5) Miami
6) Boston College
7) Maryland
8) Florida State
9) Virginia Tech
10) N.C. State
11) Wake Forest
12) Georgia Tech

It's sad to say, but I can't honestly expect much more than a middle-of-the-pack finish this year. This team, playing at its best (like the end of last year) can compete with some of the better teams in the conference. If the Terps play their age, they'll lean toward the bottom of the heap.

The goals this year: gain some character, beat the teams we're supposed to, play the top teams tight and try and make the NCAA tournament. I don't know if we can still salvage a 20-win season, but we'll definitely need one to make the cut.