The Maryland men's basketball team kicks off their ACC season tonight against Boston College. Now that the ACC teams have played a few games, it's easier to see how things are going to shake out this year. So, through intense scrutiny and poring through stats, here's what I see:

PART I of III

BOSTON COLLEGE (6-1)

KEY STATS: Boston College is in the middle of the pack in most stat categories, but is No. 2 in assist-to-turnover ratio and No. 1 in blocked shots (right before Maryland).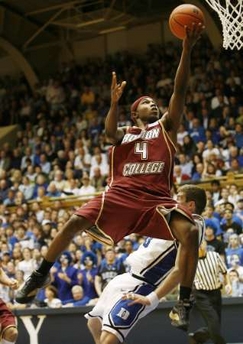 GO-TO GUY: Tyrese Rice has torn up the non-conference schedule so far in his junior year, No. 2 in scoring and assists in the ACC ( 21.2 and 6.17 per game). This will probably translate well into the ACC schedule, as he was the No. 6 scorer last year and three of the guys ahead of him are in the NBA now.
BIGGEST GAME SO FAR: A loss to Providence in OT, 98-89. Rice had 25, but their entire starting lineup had at least 4 fouls each.
AGAINST MARYLAND: The Eagles haven't really been tested so far, and Maryland definetely has. They will win, however, if James Gist takes another game off and if Hayes and Vasquez can't defend Rice. The savvy guard and the defensive-minded frontcourt are the main strengths of this team. They'll probably lose the road game.

CLEMSON (8-0)


KEY STATS: Clemson thrives on defense and passing - Top half of rebounding and blocked shots and No. 1 in assists and steals.
GO-TO GUY: The 6-5 K.C. Rivers leads the team in points and is tied for No. 9 in the ACC in rebounding with ... James Gist (for the record, Gist is 4 inches taller).
BIGGEST GAME SO FAR: A 61-58 win over Purdue. Rivers pulled down a double-double in the absence of much-ballyhooed forward James Mays.
AGAINST MARYLAND: Right now, James Mays is out with a fracture, but he'll probably be back by March when the Tigers play the Terps. A lot will happen between then and now, but for right now, Clemson rebounds much better than Maryland and capitalizes on Maryland's greatest weakness: turnovers.

DUKE (9-0)

KEY STATS: As much as it pains me, Duke is playing very efficiently and is No. 1 in FG% and scoring margin. And they've played a few good teams already.
GO-TO GUY: I'm looking for reasons not to say Kyle Singler. Besides being hideous, he leads the team in points and rebounds.

BIGGEST GAME SO FAR: A 77-73 win over Marquette. Singler dropped 25.
AGAINST MARYLAND: Duke is very strong in the wings with Singler, Henderson and Nelson, but they have no one in the post. A lot of the teams they've beaten match up well because they're guard-heavy. The Devils have chosen their shots well, but soon, Greg Paulus will rear his ugly head and start giving the ball away. Maryland should be able to take the ball to the hole against a lineup where Brian Zoubek is the only player over 6-8. At Cameron Indoor, the Cameron Tame Students will be upset, but Greivis Vasquez feeds off of the hostile atmosphere, as we saw last year. At least one win for the Terps.


FLORIDA STATE (9-2)

KEY STATS: The Seminoles are No. 1 in FT%. Good job. They're also in the top half of the FG% defense categories.
GO-TO GUY: Star guard Isaiah Swann. Leads the team in points and has a 2-to-1 ATR. Toney Douglas isn't far behind, leading the team in minutes and already collecting 30 steals this season. Also, Maryland lost when Douglas was in the game last year and won when he was out.
BIGGEST GAME SO FAR: A win over weakened-yet-still-reigning-champ Florida, 65-51. FSU took a 25-9 lead and never let it go.
AGAINST MARYLAND: The Terps have one very winnable game at home against FSU. The Seminoles have lost to Cleveland State and University of South Florida already and they've played only cruddy teams so far. As bad as Maryland is at rebounding, Florida State is worse: No one on their team is averaging more than 6 per game. However, this is an experienced squad that the Terps can't take lightly. At least Al Thornton is gone - that man killed us.

Part II is on its way tomorrow...

Extra Note: I just wanted to leave you with these wonderful words from Gary about the game the other night against Morgan State in The Sun:

Consider Thursday's night game, when Williams flung his pinstriped suit jacket to the Comcast Center floor and jawed at an official as the first half was ending in the 89-65 win over Morgan State. Williams said after the game that he hated giving the Bears the two free throws that resulted from Maryland being assessed a technical foul.

But yesterday he said he had no regrets about launching the coat - an act he said was intended as a not-so-subtle message to his team.

"I made my point and it wasn't about the officials," Williams said. "It was just about the way we played, and we played a lot better in the second half. So I look at it as it worked. It got everybody fired up."

Williams also kicked at a sideline table during the game, saying afterward: "I thought I'd work on a little martial arts."

Go Terps! See you at the game tonight!