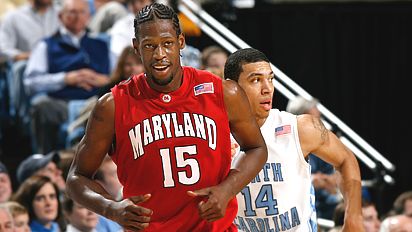 Maryland fans: WOOOOOOOOHOOOOOOOOOO!!!

Maryland beat No. 1 UNC this afternoon, and I'm going nuts!

Even I, the eternal optimist of Maryland basketball, couldn't make myself believe that we stood half a chance against the "mighty" Tar Heels. But this afternoon, we truly got a glimpse of Maryland's upside and North Carolina's weaknesses.

Basically, Maryland played the best basketball they're capable of playing. In the first half, they were absolutely montrous. In the second half, there were plenty of cracks: bad decisions, bad shot selection, brick rebounding hands. But the Terps ended up doing just enough to grab the lead at the very end (on a layup by Boom Osby, no less) and hold it.

There will be plenty of UNC fans who will cry "foul" over the officiating, which was actually pretty inconsistent, but there were plenty of calls in UNC's favor as well, like Hansbrough drawing 8 fouls (ABC presented a statistic showing that Hansbrough by himself has taken for free throws than all of the teams UNC has played has made this season).
Plus, at the end of the game, it was theirs to lose - North Carolina got the ball back with 10 seconds left after it clearly went off Ginyard, and then with 1.7 seconds left after Vasquez hustled down a supposed "jump ball."

Yes, the Tar Heels only have themselves to blame. Especially given that they trusted Hansbrough with the last shot - from 3-point range. I hope Roy Williams didn't call that play, or he might get his Hall-of-Fame status re-evaluated.

But the important thing is that Maryland won! The game is validation, not necessarily that they're very good, but that they can play well if they try, and also that they aren't as bad as we thought they were.

However, 2-2 is still a hole in the ACC with our record. We really need to win 8 more games to have a realistic shot at the NCAA tournament, and Duke looms next week. The most critical thing Maryland can do at this juncture is to rest for a bit, then look straight ahead and try and string some wins together. A veteran team shouldn't have letdown games, and we're looking more mature as time is going on.

Great win, everyone! Go Terps!

Photo Credits: ESPN.com, BaltimoreSun.com