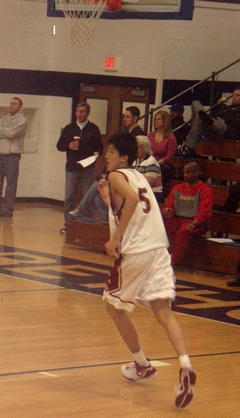 I get star-struck. I really do. Sometimes when I see athletes, I know better, but I still feel kind of a rush, knowing that I'm going to be cheering for them at some point or will see them on TV. It's just kind of exciting.

I've worked to get over this, but I couldn't help myself yesterday afternoon in South Campus Dining Hall. There are reasons for this:

- I had written about this person, but I had never met him before.
- The person was not someone I was expecting to see on campus.
- This person was a 6-foot-9 Korean man in basketball warmups.

I knew immediately who it was: Jin Soo Kim, a small forward who hopes to play basketball this fall for the Maryland Terrapins. He's going to be the first Korean-born DI scholarship basketball player in the country.

Of course, I followed my immediate impulse to introduce myself, and the results were terribly awkward:

SCENE: SoCo Dining Hall

BLOGGER approaches KIM slowly and creepily.

BLOGGER: Hi, are you Jin Soo Kim?

KIM: Yes.


BLOGGER: Hi, I'm **********. I write a blog called It Never Rains in College Park. I've written about you!

KIM: Oh...

BLOGGER: Are you enjoying classes?

KIM: It's OK...

BLOGGER: That's good. Are you playing basketball this season?

KIM: I hope so.

BLOGGER: I hope so too! Nice to meet you!

KIM: Yeah...

-END SCENE-

So hopefully that gives you an idea of how awkward I am, but also, it should make you say, "Wait, why haven't I heard about this yet? I read INRCP religiously, so I've heard about the guy, but I didn't know he was coming this year."

The answer is you probably shouldn't know about it. Every news outlet is completely quiet because no one is talking about it: not Gary, not athletics, not anyone. He's unofficial so far. Maryland is still waiting to hear a ruling on his eligibility for this fall.

We might not know for some time whether Kim will be on the court this season, but he hopes so, I hope so, so if we all hope, maybe it'll happen.

If you need to jog your memory:



Go Terps!